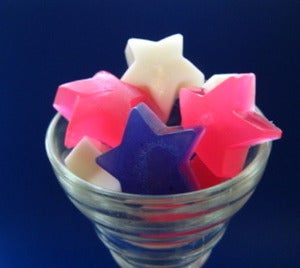 $

4.75
4 ounce plastic jar with 5 star guest size soaps in pink, blue and white as seen in picture. Soaps are handmade by me using a Honey melt and pour base and a Goat's Milk melt and pour base.
Soaps are scented with Pixie Dust Fragrance Oil.
Total weight of soap is approximately 1.75 ounces.
Perfect for kids, gift giving, party favors or as guest soaps.
Ingredients: Coconut Oil, Palm Oil, Safflower Oil, Glycerin (kosher, of vegetable origin), Honey, Goat's Milk, Purified Water, Sodium Hydroxide (saponifying agent), Sorbitol (moisturizer), Sorbitan oleate (emulsifier), Soy bean protein (conditioner)